TIBETAN MEDICINE
From Tradition to Science
An Alternative and Complementary Medicine Resource Guide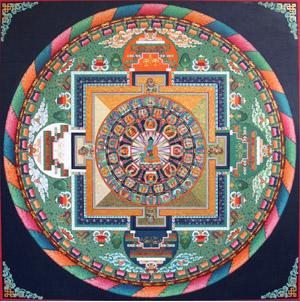 Background and origin
History
Philosophy
Interrelationship with Buddhism
Physiology of the bodily energies/humors
Diagnosis
Treatment
Indications for Tibetan Medicine today
Tibetan Medicine in Contemporary Tibet
Western Science and Tibetan Medicine: multi-target concept
Regulation
Current developments with herbal medicine - the example of Padma
Suggestions for General Interest readers
Further suggestions for Students of Tibetan Medicine and readers with a scientific interest can be found on the TibetMed web site - Professional Resources
Links to MEDLINE database articles
Other scientific articles on Tibetan Medicine
A Listing of Research Institutes, Tibetan Doctors, and related resources can be found at: Click Here

In the west, patients as well as physicians, have developed a strong fascination for traditional eastern medicines possibly due to their distinctive philosophy, wisdom and seemingly magical manifestations. To date much more is known about Traditional Chinese Medicine and Ayurvedic medicine of India and relatively little about Tibetan medicine. Tibetan medicine, however, has such a rich inheritance and value that it is important not only to enrich our knowledge but also to preserve the information gathered through the centuries. It is one of the world's oldest known medical traditions and an integral part of Tibetan culture. The understanding of health and disease in Tibetan society is explained extensively in a system known as gSoba Rig-pa (pronunciation sowa rigpa) or the science or knowledge of healing. The original teachings of this system are generally attributed to the Buddha, who is said to have taught the root of this tradition in the manifestation of Medicine Buddha. The essential aspects of this teaching are touched upon widely in the rGyud-Bzhi (pronunciation giu shi) or the four tantras, the medical text which will be explained further.
This resource sketches the history of Tibetan Medicine, its philosophy and medical theory. It also shows some current developments of Tibetan Medicine and gives a list of indications for which diseases it might be beneficial. A further focus of this resource guide is the role of Tibetan medicine in contemporary medical practice. Finally this guide will provide practical information about books, scientific literature, professional organisations and web resources.
Author´s advice: As for all forms of complementary medicine , in cases of serious illness or acute medicine,it is advisable not to useTibetan Medicine alone, excluding conventional medicine, Its value, in my opinion, is as an addition to regular medicine, reaching for the "best of both worlds". Few Tibetan formulas are yet available and adequately documented for western use. Further and extensive research with more formulas is necessary so that they can be fully incorporated into the regular medical system or exist in parallel.
Search terms were: (tibet [Text Word] OR lamaistic [Text Word] OR tibetan [Text Word]) AND (medicine [Text Word] OR herbal [Text Word] OR remedy [Text Word] OR plant [Text Word]) OR padma 28 OR padma lax
Tibetan Medicine Resources and Courses
http://www.tibetanmedicine-edu.org
Dr. Pasang Yonten Arya Tendi Sherpa's site provides information and education related to the transmission of Tibetan culture and its healing knowledge and practices.
Tibetanmedicine
http://www.tibetanmedicine.com
General information on Tibetan Medicine
TibetMed
http://www.tibetmed.org
One of the first websites on Tibetan Medicine, developed by the Alternative Medicine Foundation, this site has a range of new information on Tibetan Medicine resources and practicing doctors.
TibMedinfo
http://www.tibmedinfo.ch/
This web site from the Padma AG presents impartial scientific information on Tibetan Medicine

Tibetan and Himalayan Digital Library
http://www.thdl.org
This international community of scholars uses Web-based technologies to integrate diverse knowledge about Tibet and the Himalayas.

Yuthog Foundation for Tibetan Medicine
http://www.yuthog.org
Concerned with the preservation and development of traditional Tibetan medicine, and the education and training of Tibetan Doctors in rural Tibet.